Today by the morning, we needed to leave as soon as possible, because although spending time next to the the highest point in the world, was the greatest thing ever, our overnight Yurt accommodation, like all the others at base camp, was extremely basic. I think when we woke up at about six, the temperature inside must have been a numbing 2 to 3 degrees C. Outside with the chill factor with the wind must have been at least -5 degrees C. I did get up at about 5 am to use the outside loo – I had to go! Boy what an experience and best left at that. A mettle shed which from the outside looked ok, but from the inside, two rectangular shaped cut outs in the floor into which you do the business (sorry, trying not to be too descriptive), with a hole, which by no means was very deep – that's it, about this topic.
We were out pretty sharply, on our way to Zhangmu – the border town from which we will be exiting China/Tibet into Nepal the next day.
On numerous occasions, I have mentioned how beautiful the scenery is, somehow maybe implying it is better than in previous places or areas. It would be unfair to suggest this is the case, because there is a uniqueness in the beauty we have encountered, whereever we have travelled to and whichever area. Today was no exception and again what we encountered, the further we travelled southwards was a complete contrast to, not only yesterday's unique views but I think it contrasted with the scenes we had encountered during the past month. From desert barren lands and mountains with snow to today, a green valley full of vegetation.
Final morning photos of Mt Everest – well below zero.
The offending loo to the left of the above photo.

Off we go into the snow……
Click Here to Watch the Video of the Road
Even after leaving Base camp we encountered some beautiful mountain scenery.
A peril, thankfully we missed.
Click Here to Watch The Video of the Road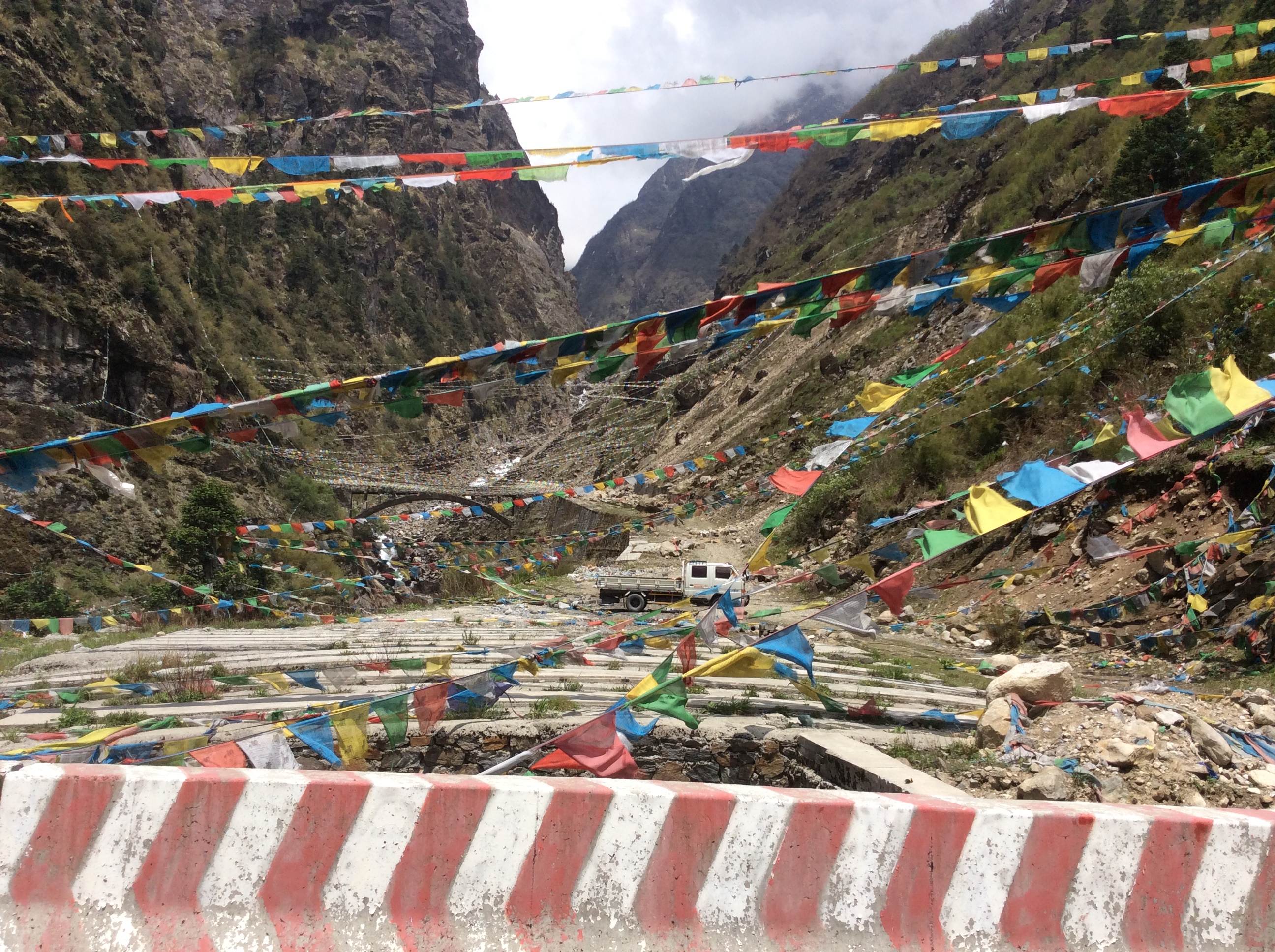 Tibetan colours tied at an auspicious place. Don't know how they managed to tie these ones.
There's a bit of monkey business that has been spotted in the vicinity.
Kirit posing in front of the greenery.
Monkey business in motion……
Click here to Watch Video of Monkey Business