Left Udaipur at about 11.30 am to complete the final leg of our road trip.
Udaipur has numerous lakes with lovely settings, but unfortunately we would have to leave this for another time. The immediate focus was to reach Ahmadabad by about 4.30 pm at a well known sports club, where we would be greeted by some local and national press. Did not know what to expect regarding the press, arrangements had been made by Kirit's friend, at whose house incidentally, we were staying this evening.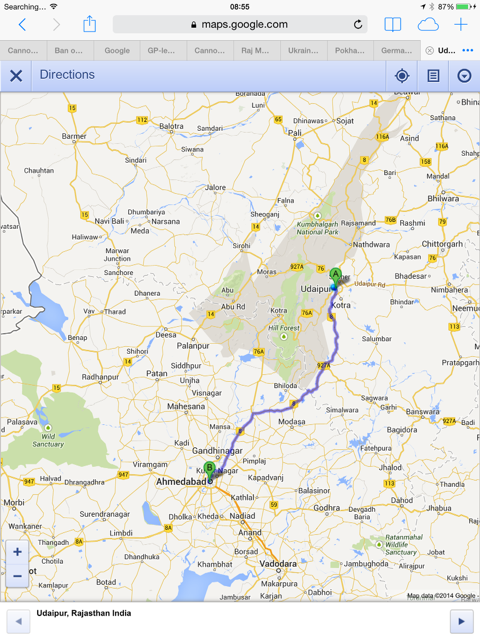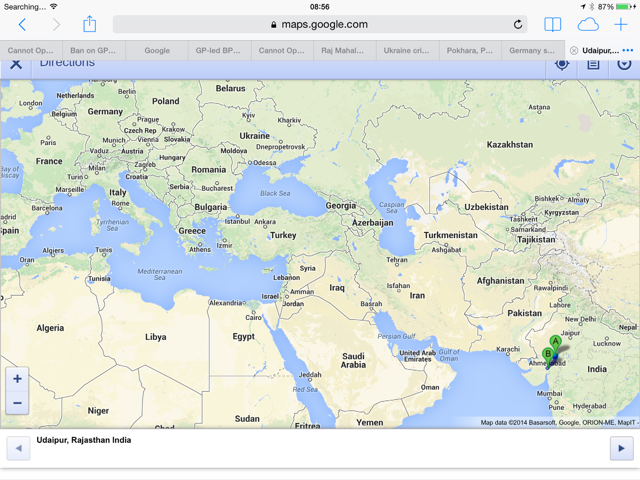 Just over 12,000 miles traveled reaching our final destination.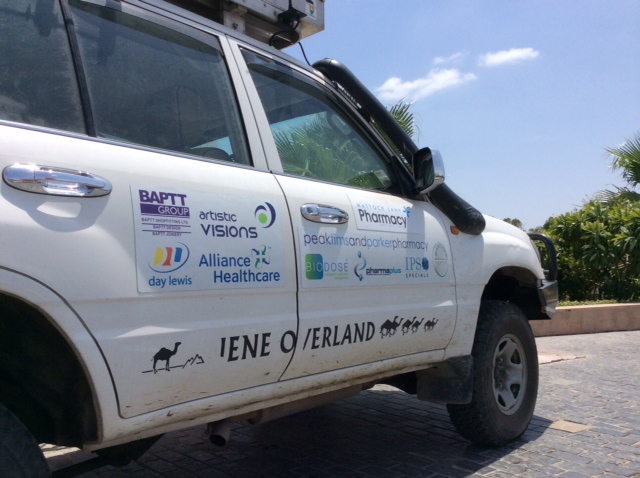 I drove all the way to Ahmadabad, needed to do this after the incident the other day.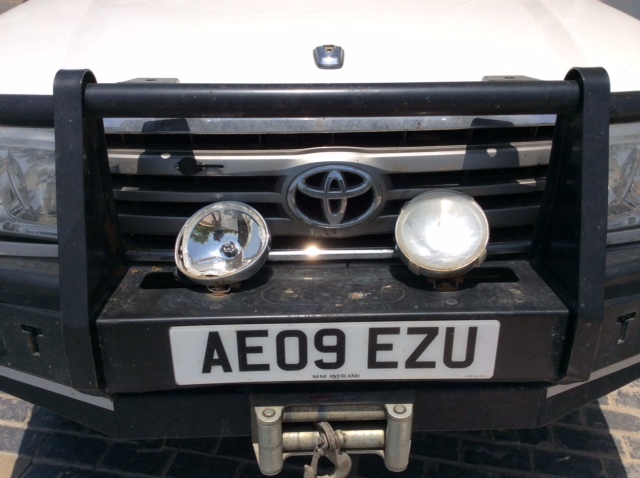 Damage to the spot lights ,after yesterday's accident – not a lot,considering the force of the impact.
Experienced the now usual traffic and highway violations on route and I had to be attentive right throughout the journey. The start of the journey was quite unusual, when we had to dodge an elephant at a junction. Yes this time, in this very animal friendly country, it was the elephant's turn to test our driving skills.
Click to Watch Video of Elephant
Made Ahmadabad by about 5pm, the following hour and a half that followed at this popular … club was an experience and a half.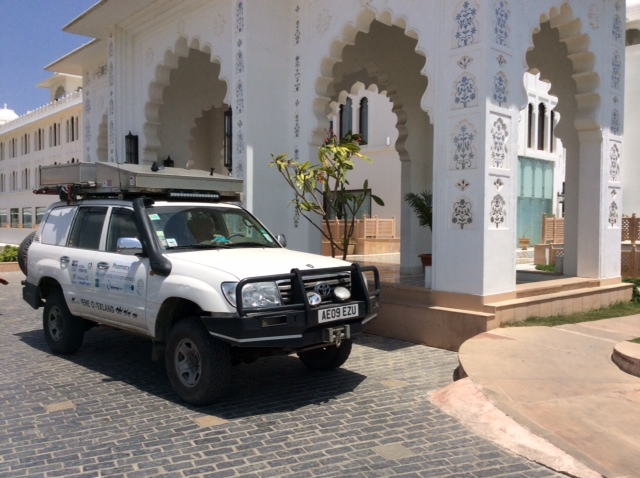 As soon as we arrived and entered the building, Jayesh – Kirit's friend here, informed us that some of the press were already here and they would like to conduct interviews as soon as possible.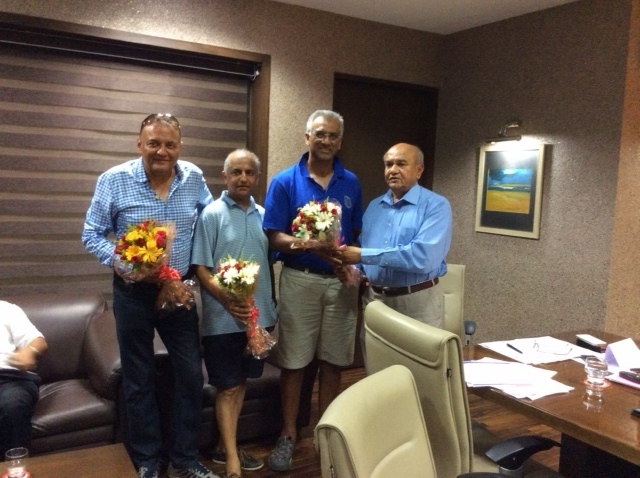 Flowers for the adventurers!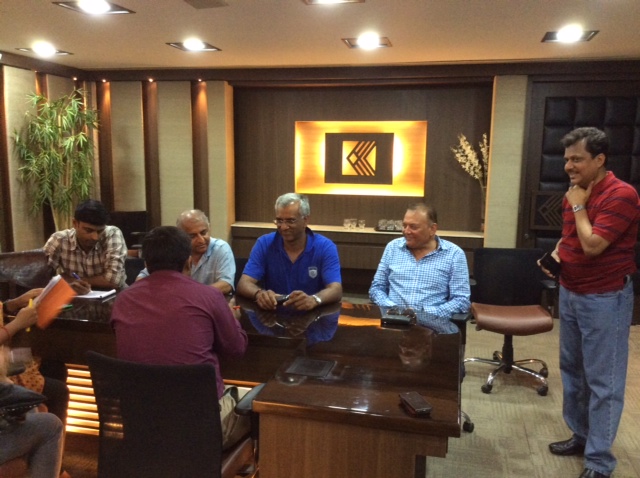 Let the interviews begin. Initially all three of us with one reporter.
Like proper celebrities we were escorted into a posh conference room, seated and interviewed by a particular news paper reporter. No sooner had he finished when another two suddenly arrived, and they too sat around us and started asking similar questions about our trip.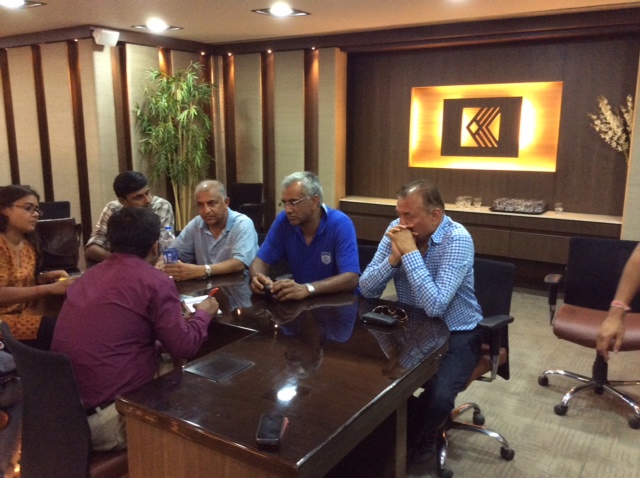 It was great fun, but it was starting to become organised chaos, so what was suddenly decided – and it worked – was to split Kirit, Manvir and myself so that we now sat individually with the reporter.
Quick firing questions and hopefully we gave a good account of ourselves and of the journey we have just undertaken. Its very easy to give top layer answers to the best and worst moments on the trip, but for me, it will take a bit of time and more reflective thought to convey with greater detail my feeling about the trip. Unsure how at present but I would like to break the thoughts into smaller pieces – about the countries and their people, the journey itself and importantly whether this experience has changed me in anyway.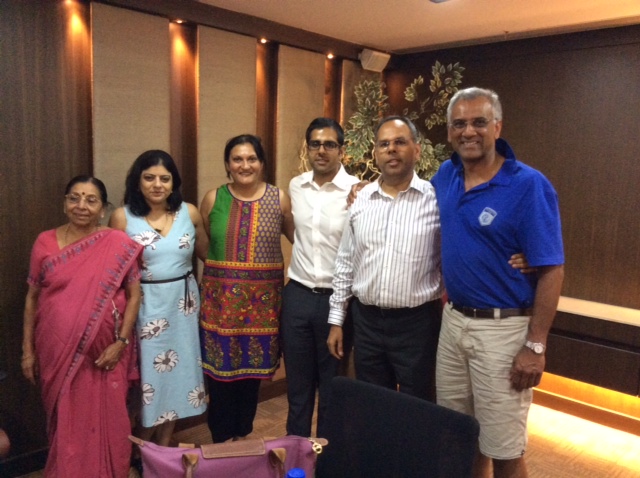 Kalpesh paying us a visit.
Kalpesh Solanki – Pharmacy Business, was in town and was also present here – this time not as a reporter, nice of him to come and share the moment.
Back to the board room scene – We were now told that the photographers were waiting outside and wanted to take photos of us and the Land Cruiser.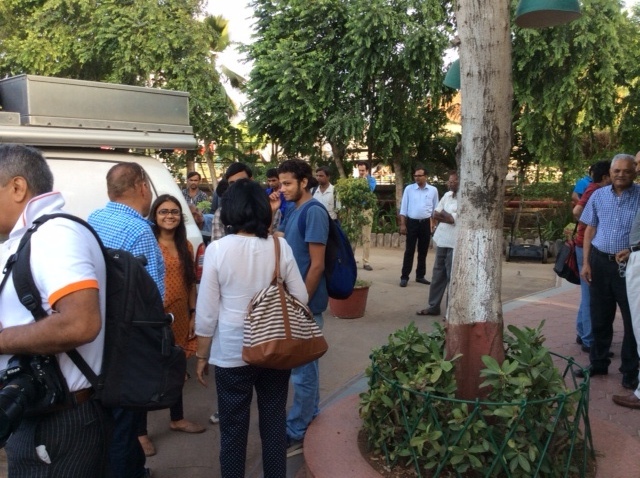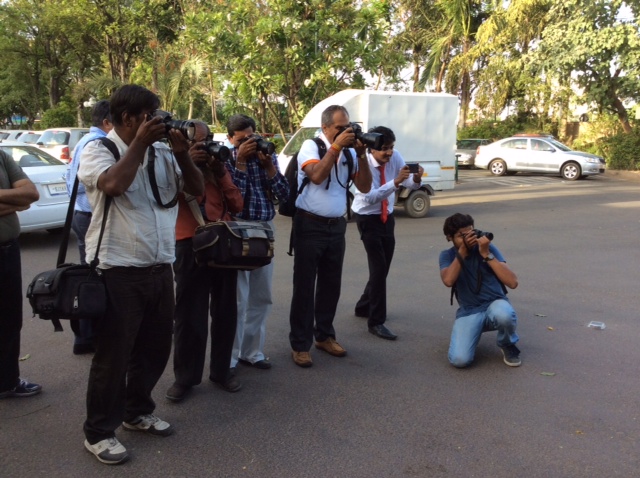 There were so many people waiting outside, from the press and others and for that moment of time, we all felt we were in another world. It got so busy, answering questions fired at us from the various reporters, taking photos and even showing the various gadgets on the vehicle.
Our fridge was already switched on, and we demonstrated how cold it was with the beer we had inside. They took numerous snaps of Manvir and myself holding a couple of cans of beer we had previously purchased in China. Thinking afterwards about this, hope the reporters don't run with the story – World road travellers caught without liquor permit! Gujarat is a dry state – where liquor permits is required. Too much to think about at the present time, we will cross the bridge when and when it happens.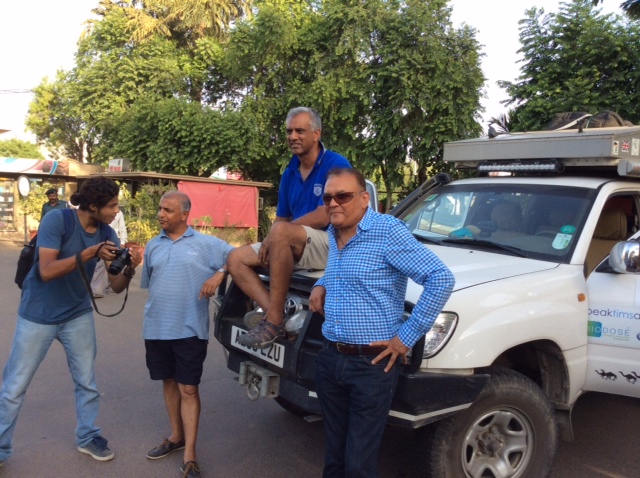 This chap was the campaign manager and helped Mr Modi, during the recent general elections.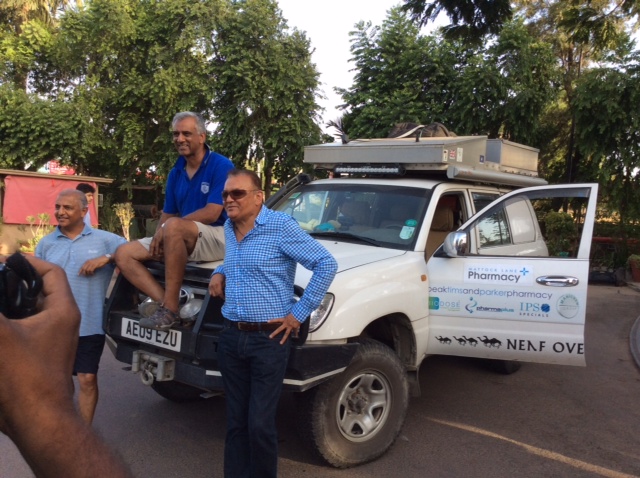 Wow, for a moment we are all celebrities.
Even so soon after the end of our journey, there was a happy feeling, a feeling of contentment that a dream has been fulfilled. Importantly we had all returned safely and all of us will be shortly making our way home back to England. The day ended with a small party at Kirit's friends house .
A really big thank you, to you all, for following my blog over the last two months. Its been a great adventure and ticked so many boxes for me. Although it's been hard work keeping a daily record, it's been absolutely worth it because it will act as a great reference point in years to come.
In the next few days, I am going to try to give a brief overview of the trip.
THANK YOU ONCE AGAIN AND PLEASE DON'T FORGET, IF YOU ARE ABLE TO GIVE SUPPORT TO OUR NOMINATED CHARITY – PHARMACIST SUPPORT – PLEASE SUPPORT IT. https://www.justgiving.com/pharmacistsupport/
Hiten Patel
—————————————————————————————————————–
Received coverage in local and national news papers including India Times, and also on newspaper websites the following day (13th June).