An even earlier start to the day then yesterday.This was going to be a long and challenging day.
We were at the airport by 6am, to make our second and final attempt to see Everest and all the associated peaks. The omens were good, the weather seemed a bit clearer then yesterday, the aircraft was bigger and more comfortable.
The flight was for an hour, and it was probably one of the best hour I have ever spent looking at such natural beauty.
Lots of great shots of the Mountains from The Nepal side.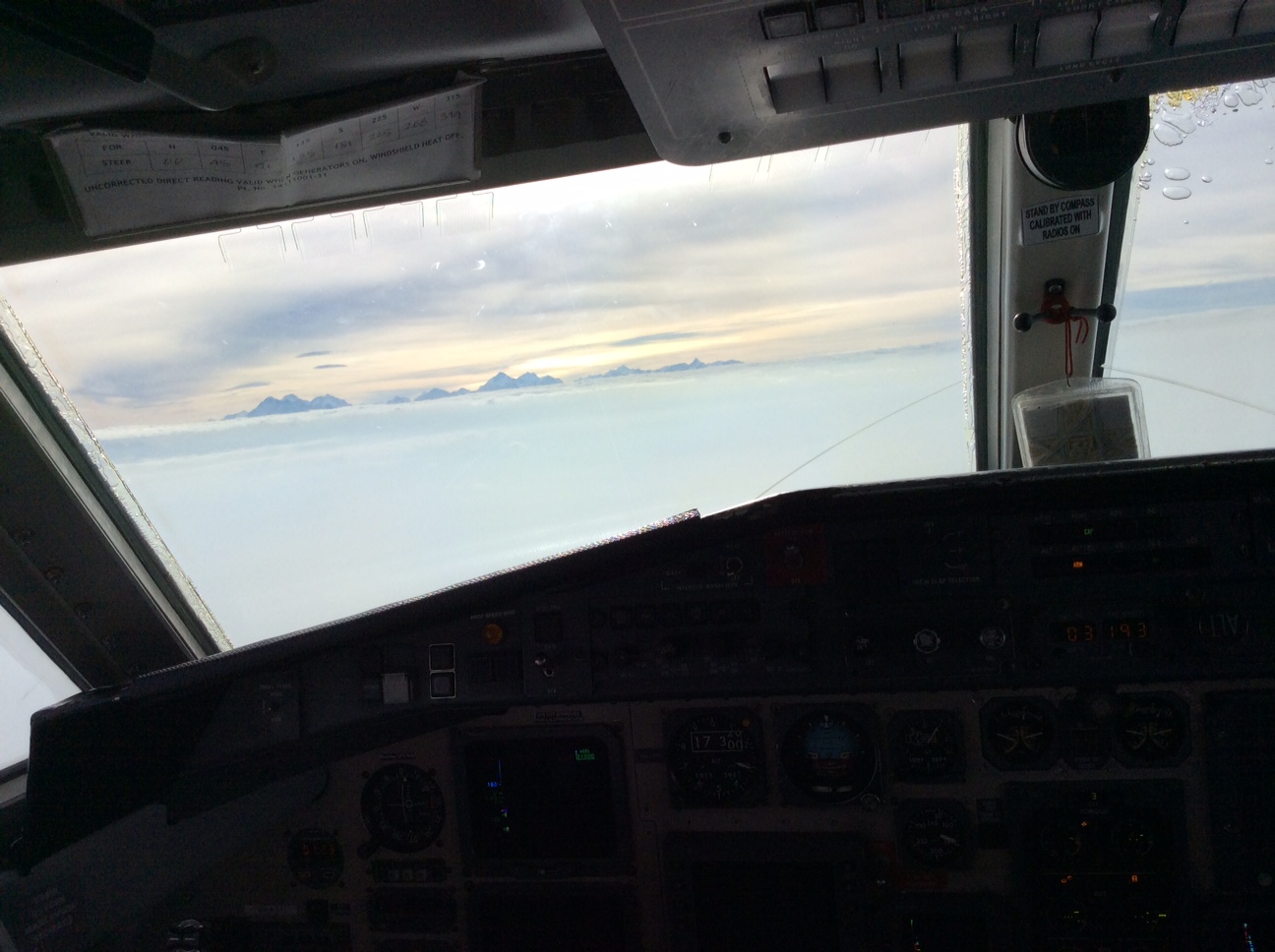 A view from the cockpit.
Click to watch Mountain Flight Video 1
Click to watch Mountain Flight Video 2
Click to watch Mountain Flight Video 3
Click to Watch Mountain Flight Video 4
Click to watch Mountain Flight Video 5
Click to watch Mountain flight Video 6
Click to Watch Mountain Flight Video 7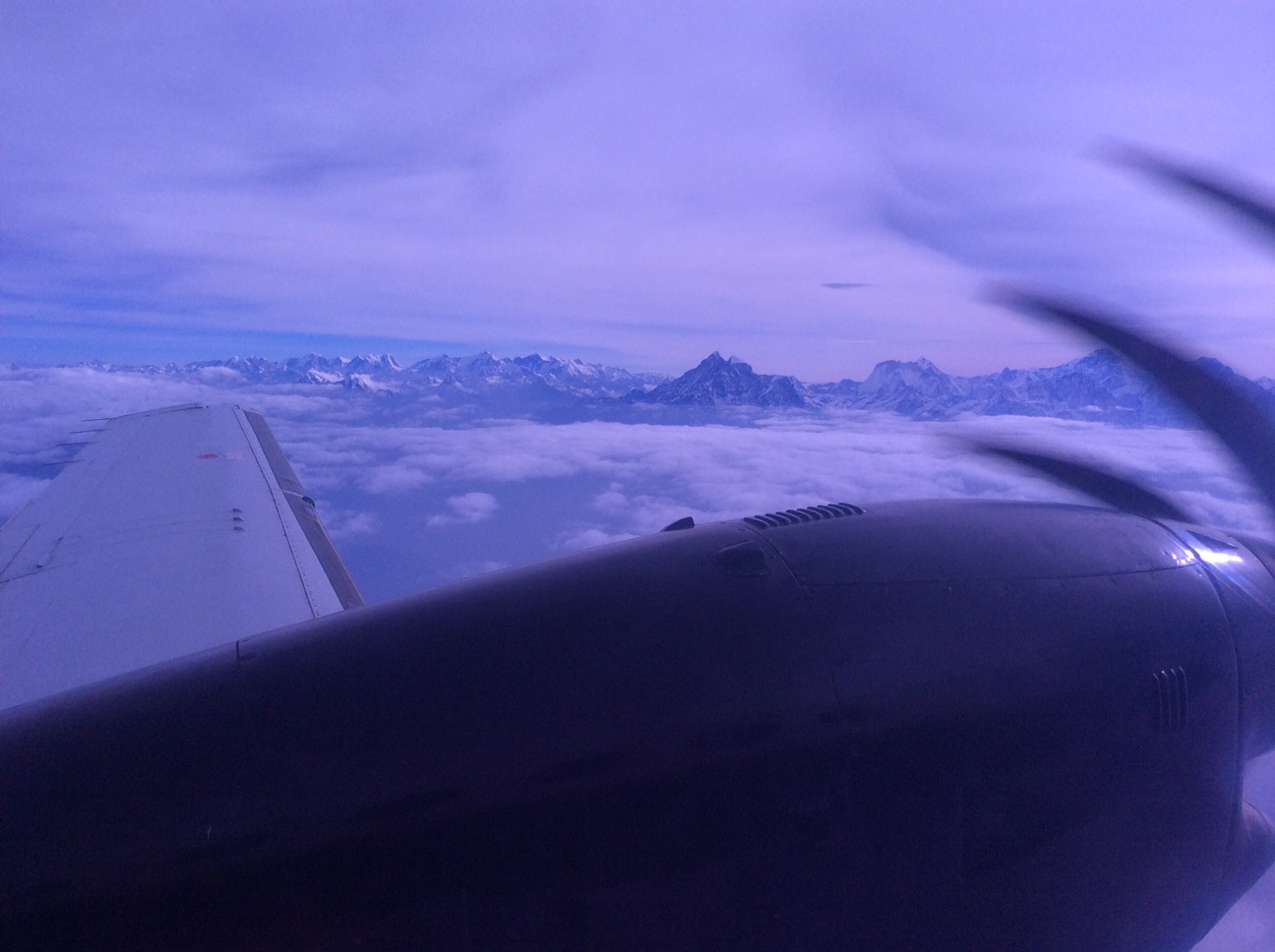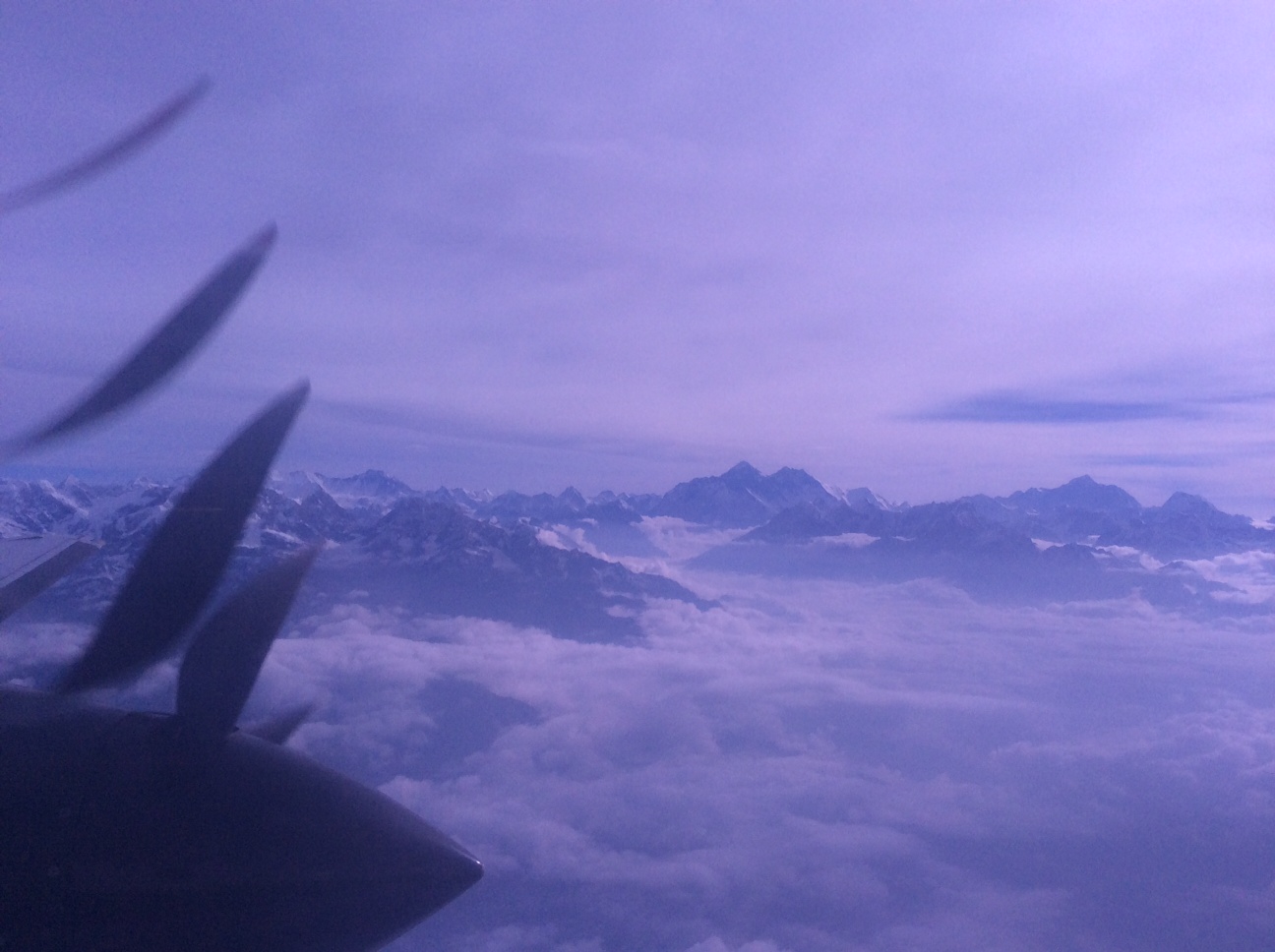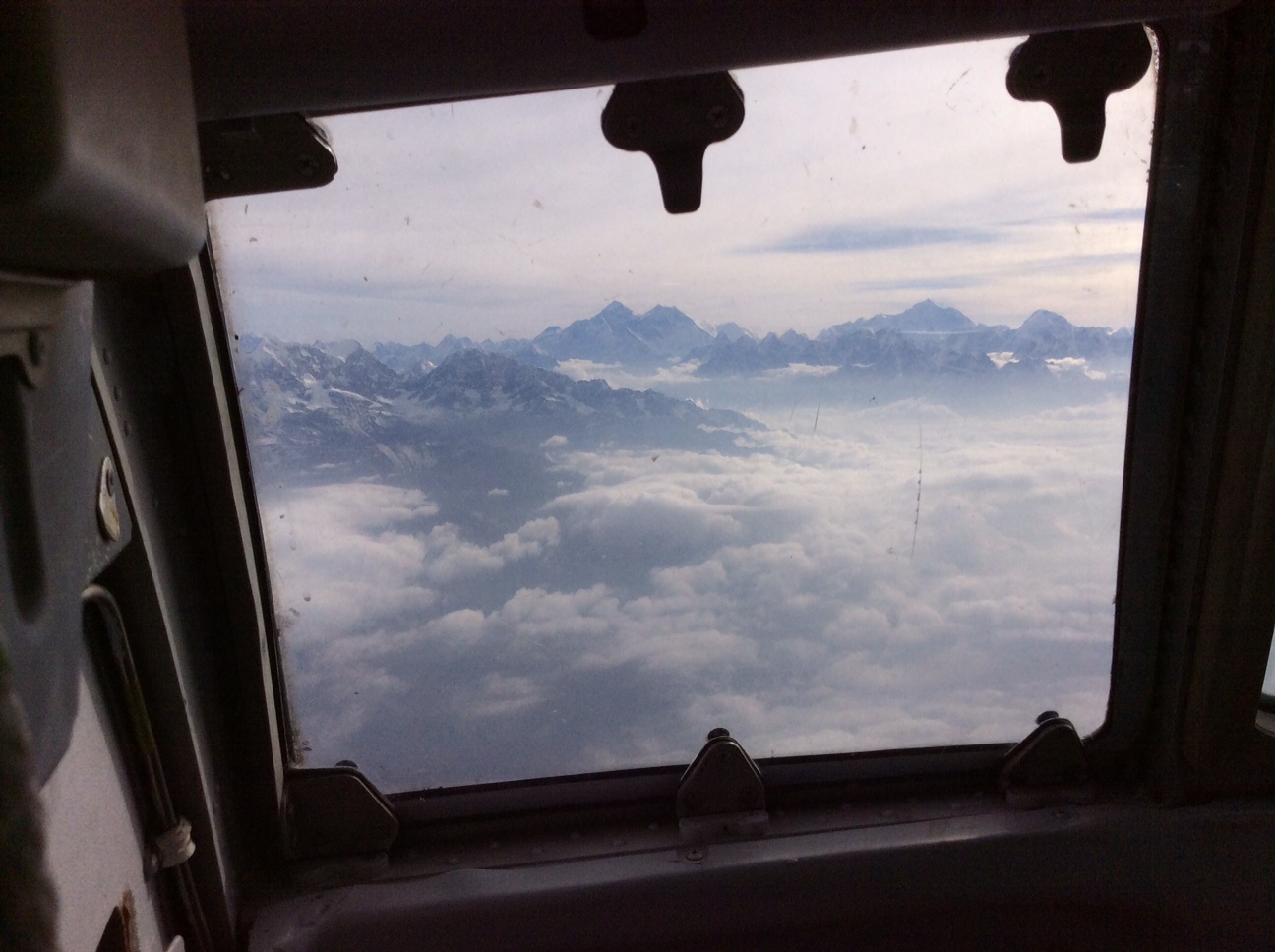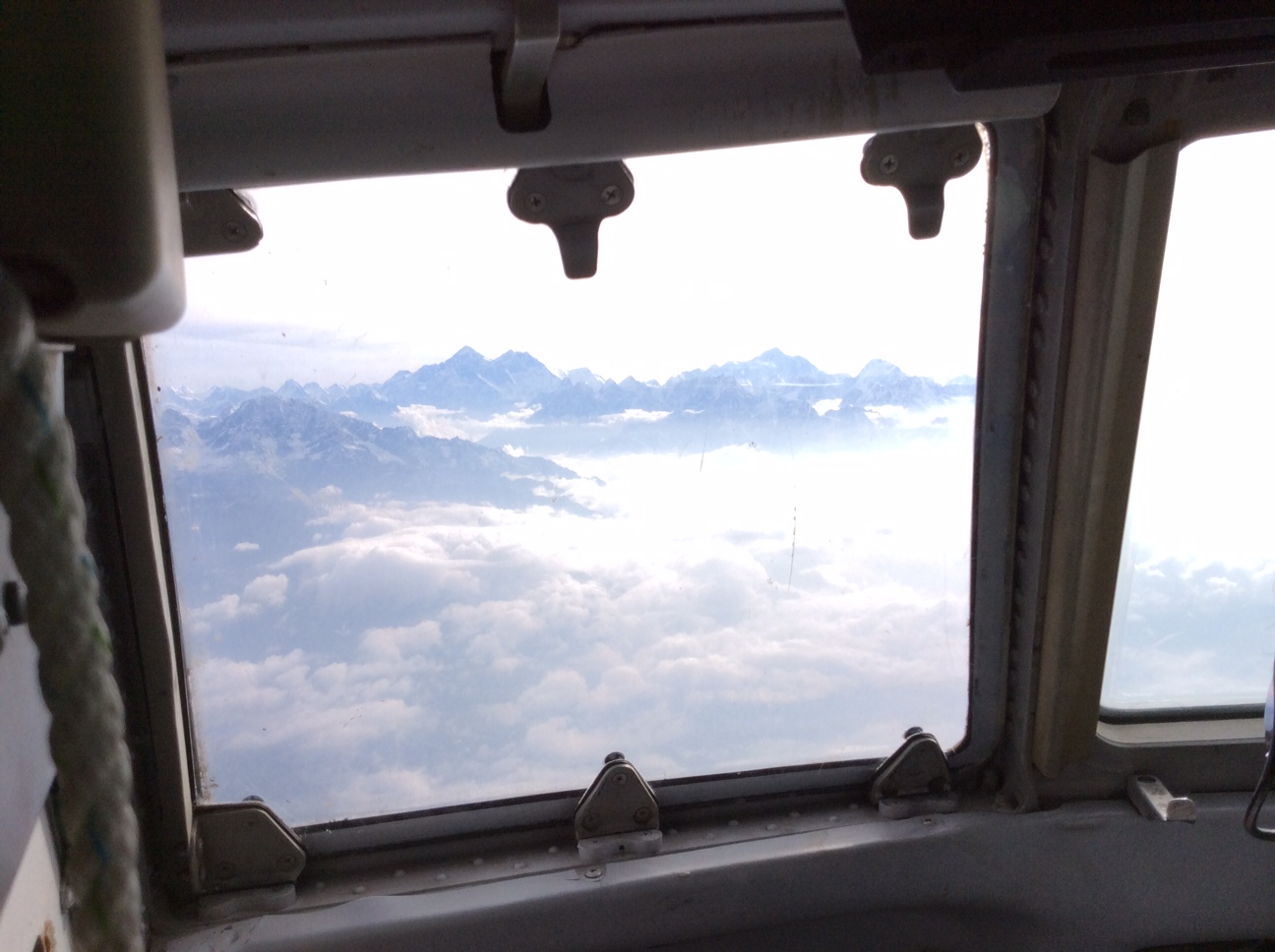 These were breathing scenes.
Numerous peaks of snow capped mountains, being seen from the top of the world, in the comfort of an exclusive flight. The bonus, and it was a big bonus we also got to see the views from the cock – pit of the air craft. The whole viewing experience was completed with exceptional friendliness from the aircraft staff. This was a big tick in the box, particularly when it was possible to relate one particular peak – The North Face to the time we spent at Everest Base Camp, only last week.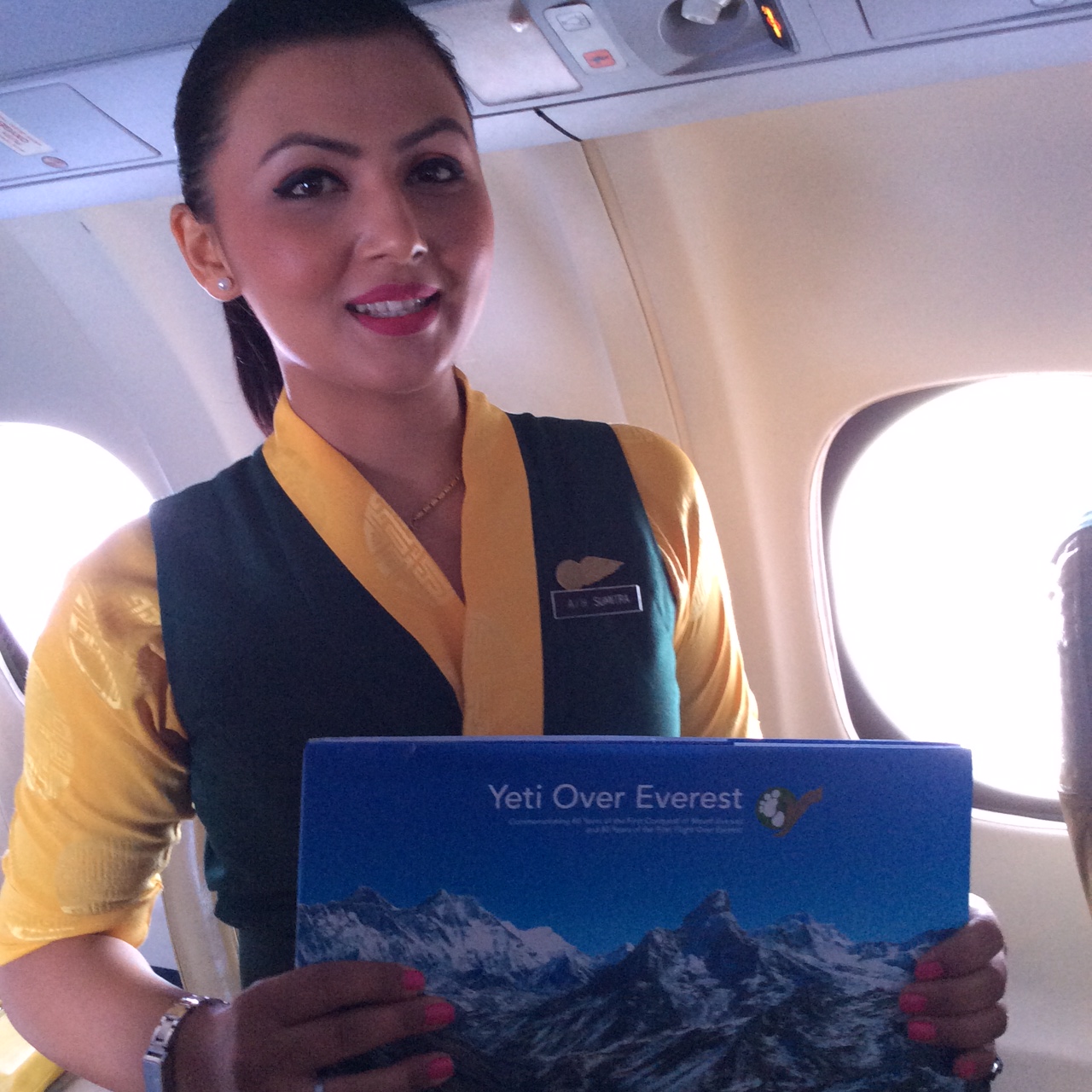 Service with a smile – This Air Hostess is wasted on Yeti Airlines.
Coming into land – fairly smooth.
Click to Watch Our Plane Landing Video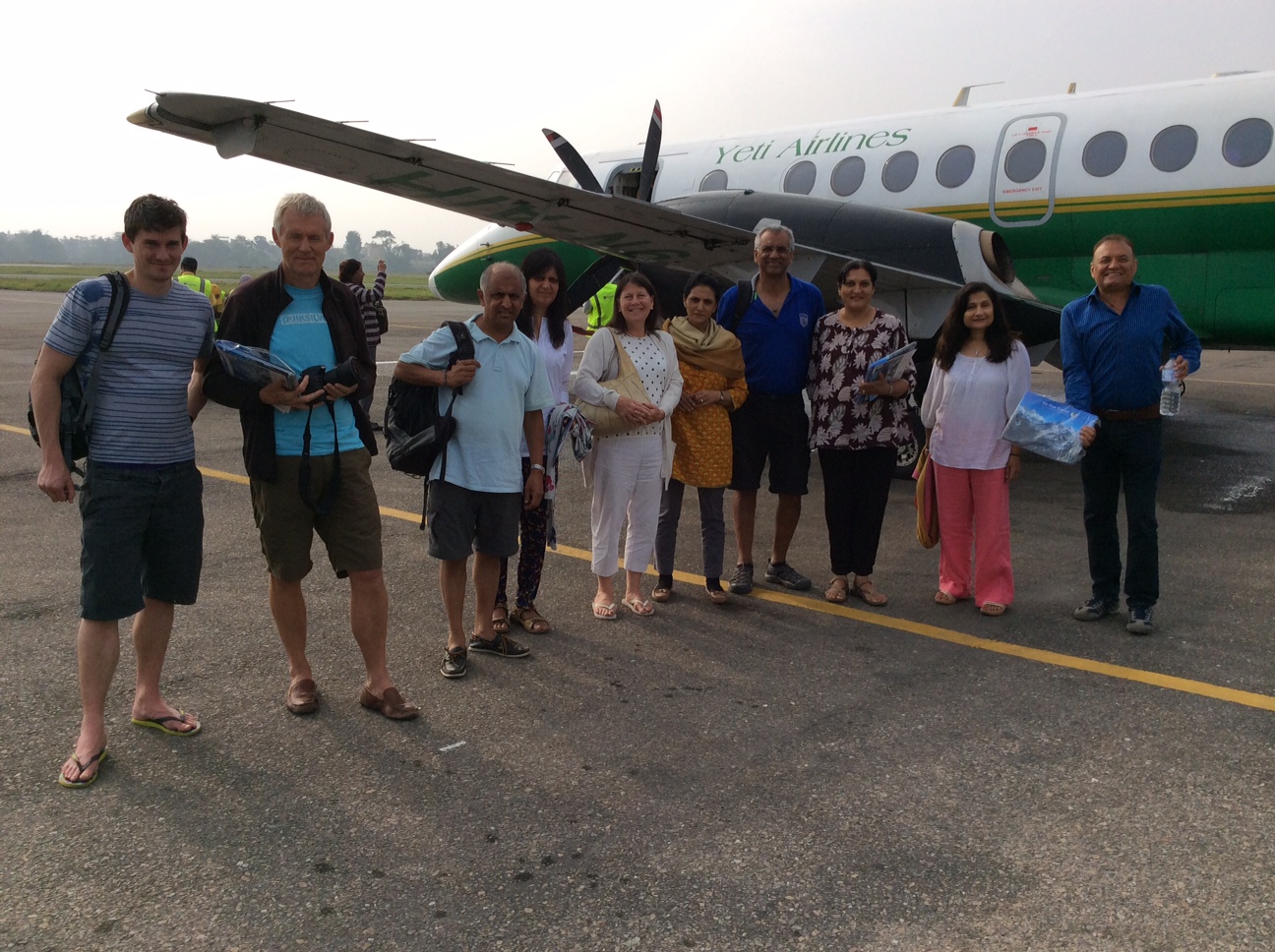 All happy bunnies after seeing such a beautiful sight – second time lucky.
Got back to the hotel, had a quick breakfast and we were soon on our way to the Nepal border – the mission was to cross over into India today.
We had a long tiring journey ahead of us.
A bit complicated to explain – but effectively it would be Peter's last journey with us on this road expedition. Because we had to sort out the Carnate (a vehicle thing), some of the car documents were in his name, he was going to cross the border, with us into India and then rejoin his family back in Nepal.
Two cars were travelling to the border crossing, and mine and Kirit's wife were going to rejoin us for the India leg of the journey.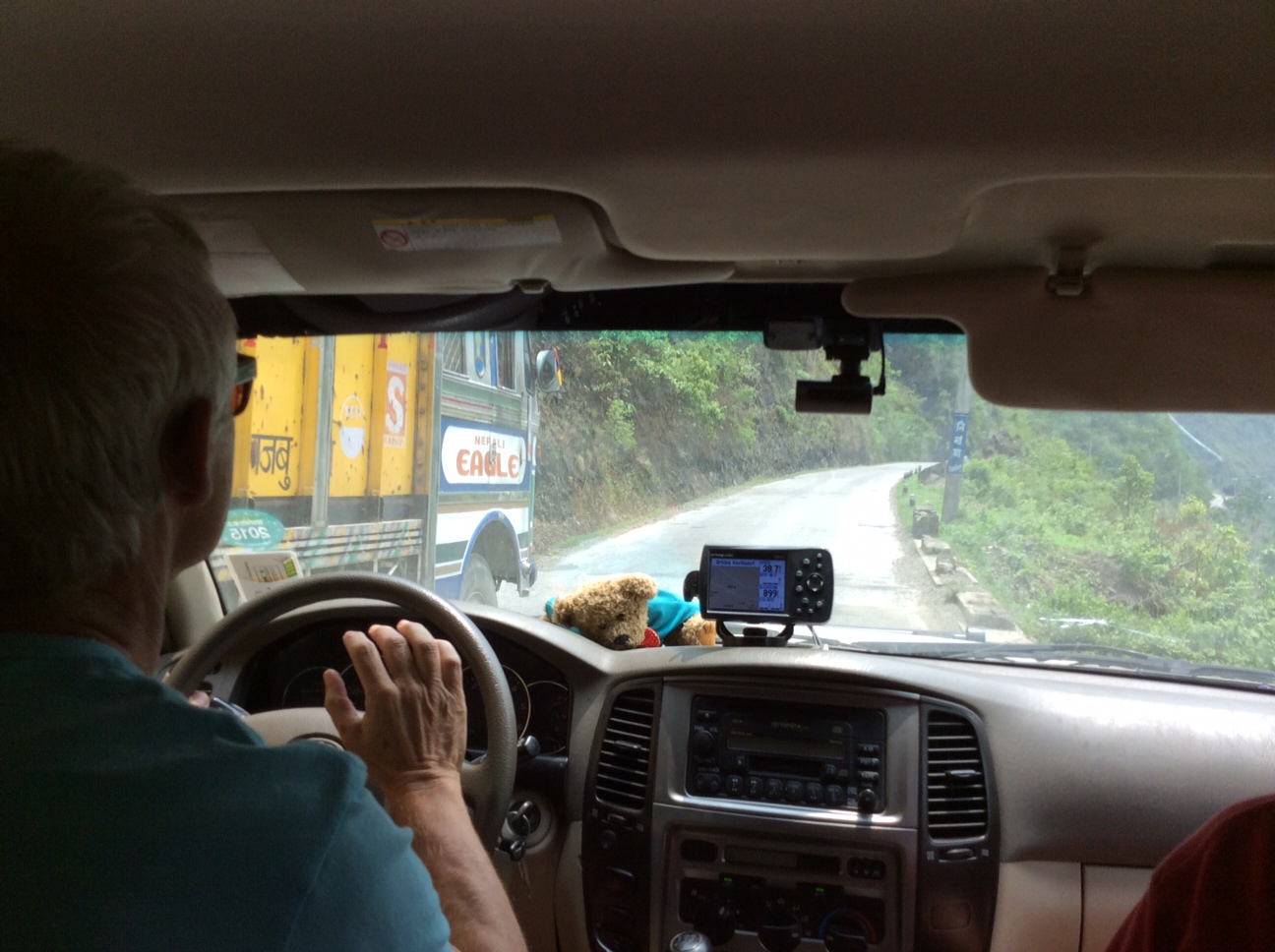 Journey to the Nepal / India border, fraught with danger.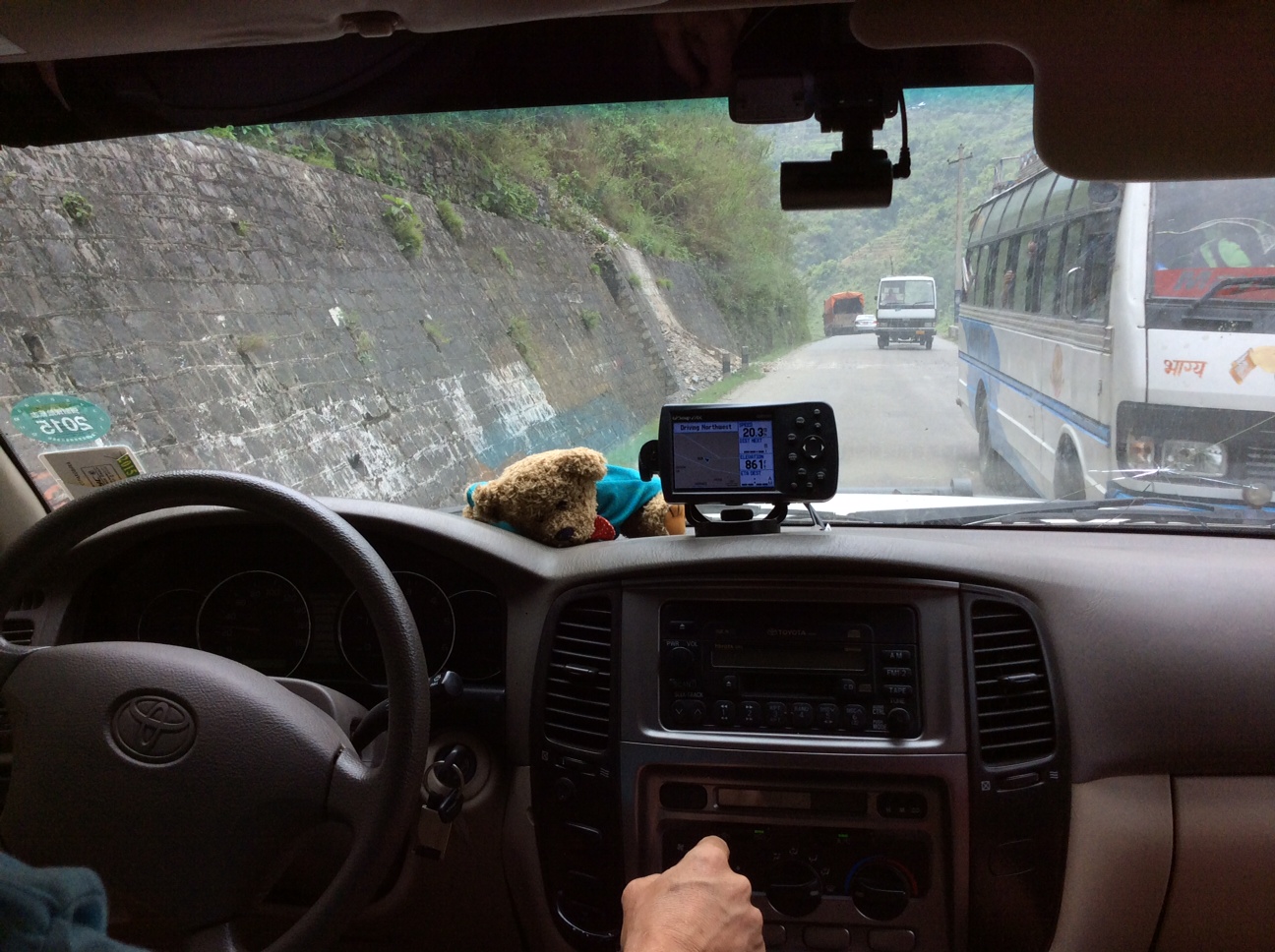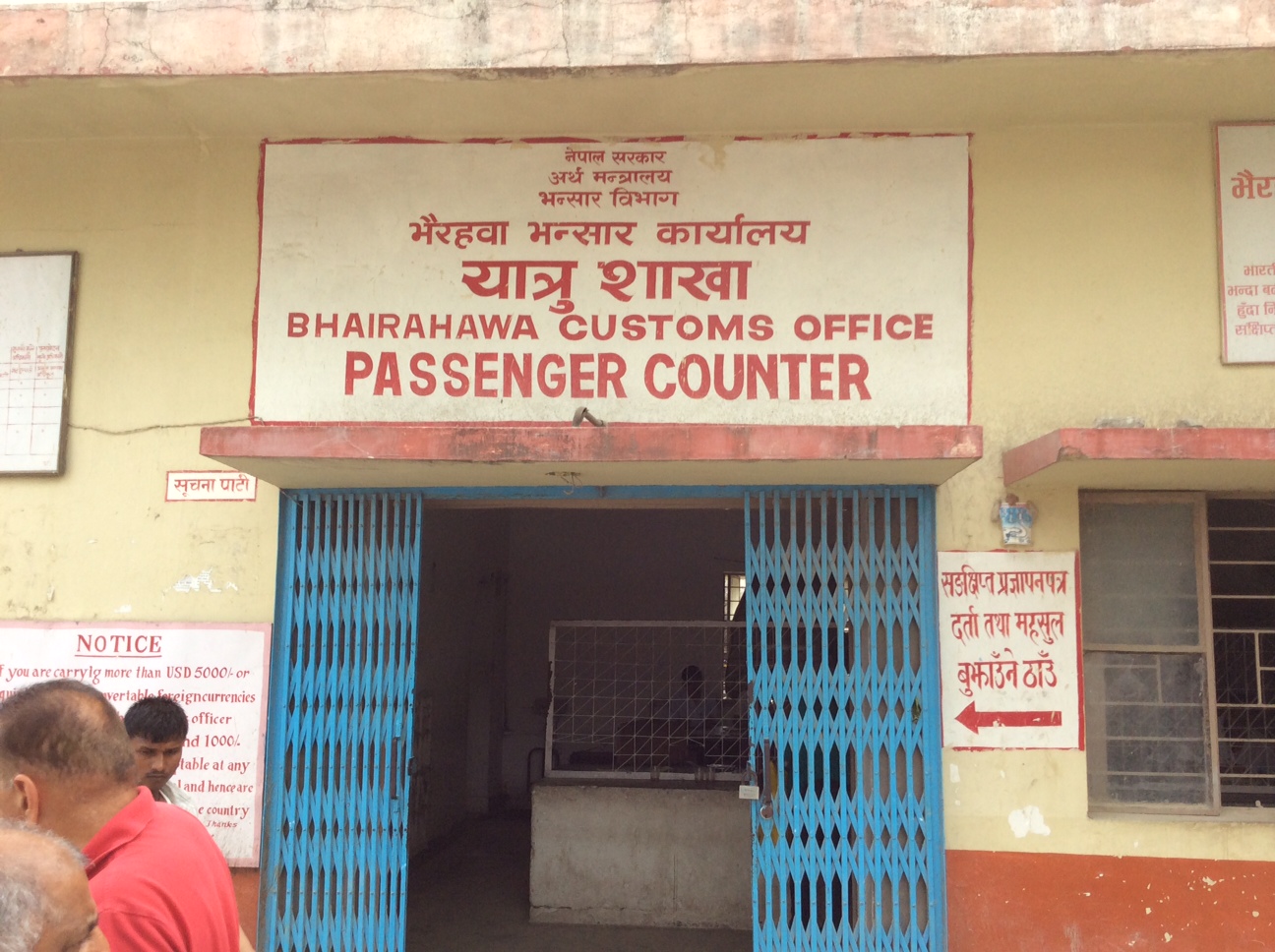 Nepalese side of immigration and Car registration formalities.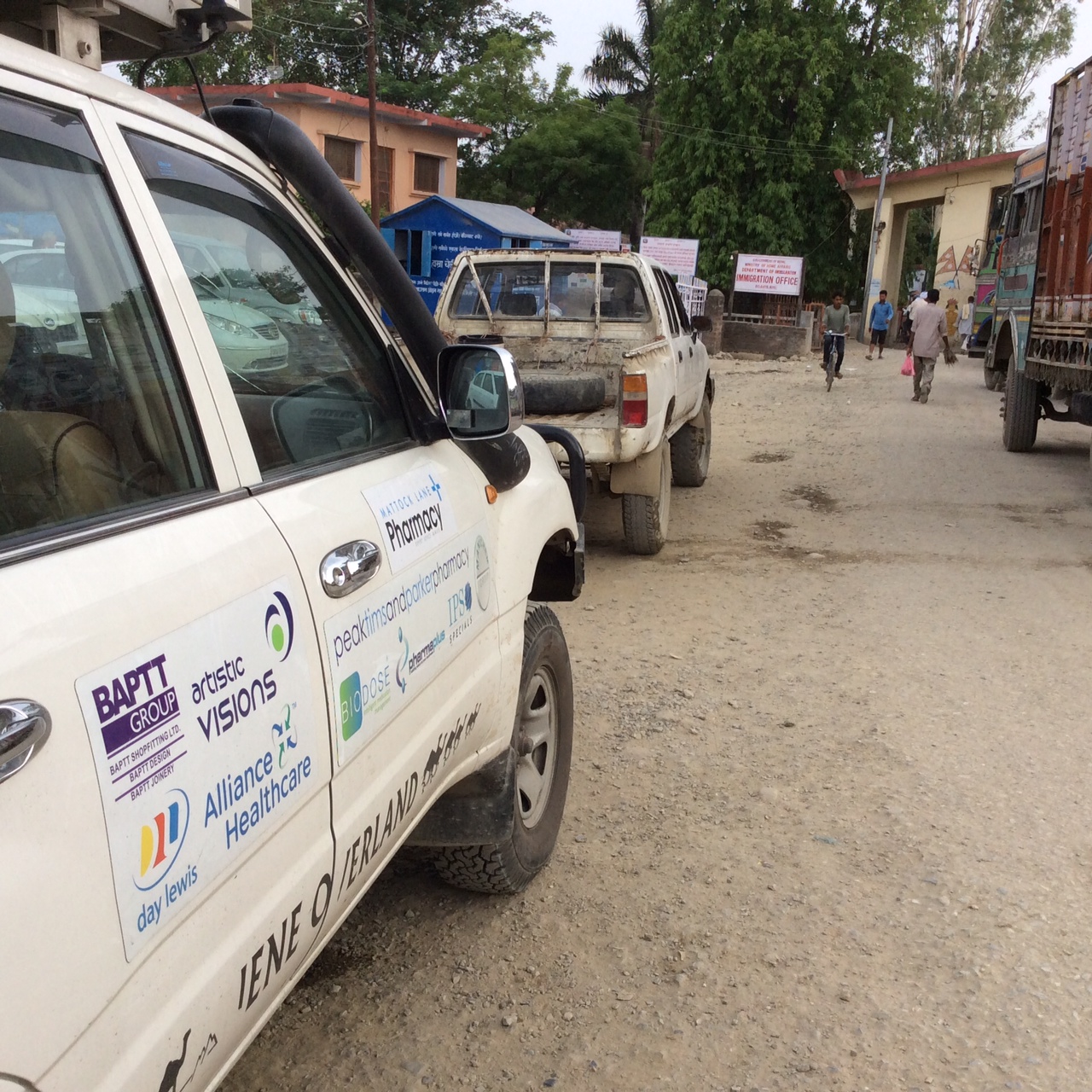 I drove the first leg of the journey, hell raising or what – anyway we finally reached the border crossing. We were pleasantly surprised to find that the customs formalities on both sides of the border were completed without too much fuss or bother. After passing through 16 countries this was our last border crossing and symbolically for us the most satisfying because we had almost completed our intended mission, of driving from London to India. Just going to repeat it for my benefit – have driven from London to India!!
We have waited a long time to see this posting – and very welcomed it was too.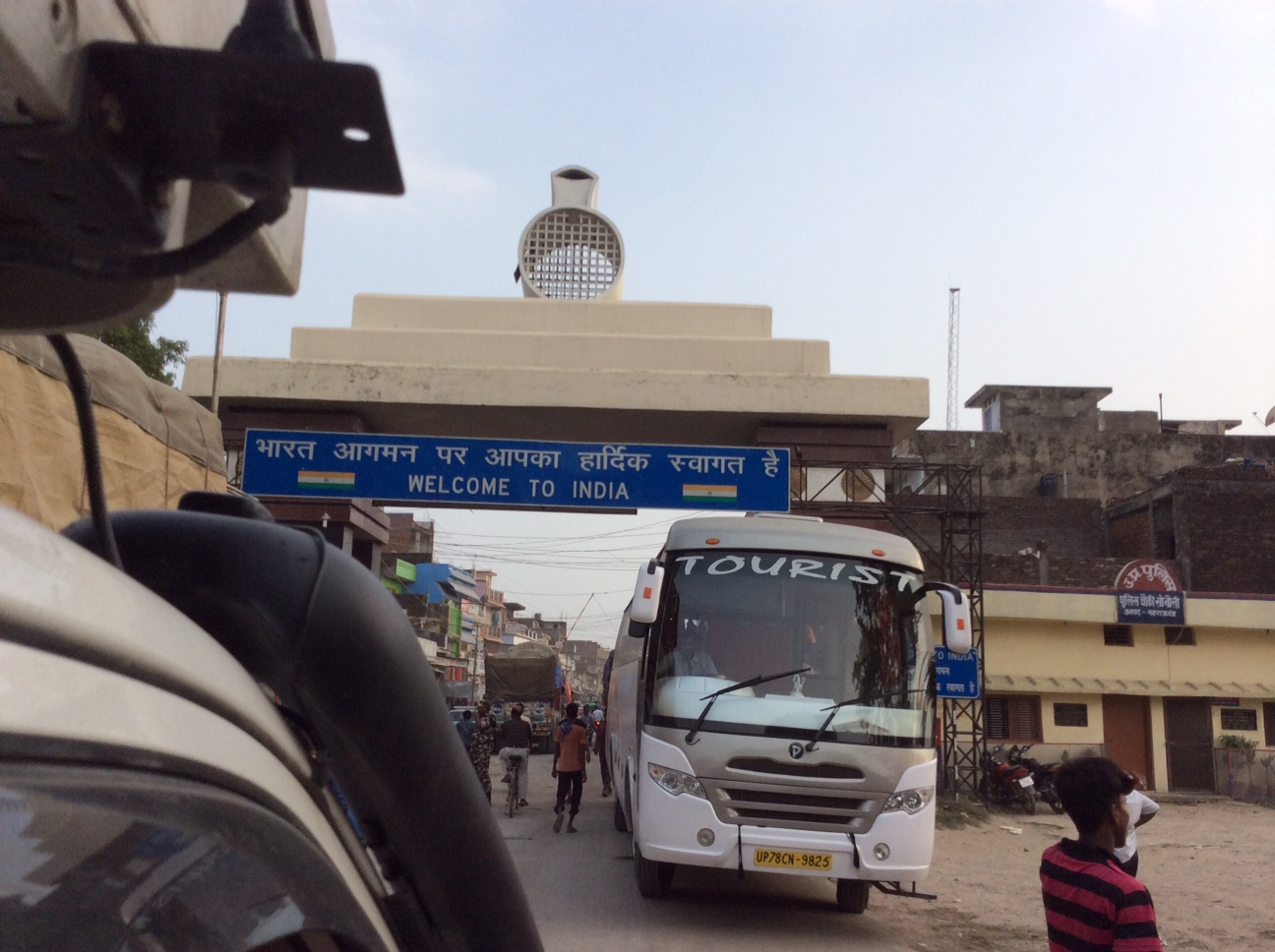 Said our farewells to Peter who was going to spend a little more time in Nepal. Have spent a lot of time together in the last eight weeks and it will be unusual not to have him travelling with us from now. No doubt we will all catch up soon, after we return to England.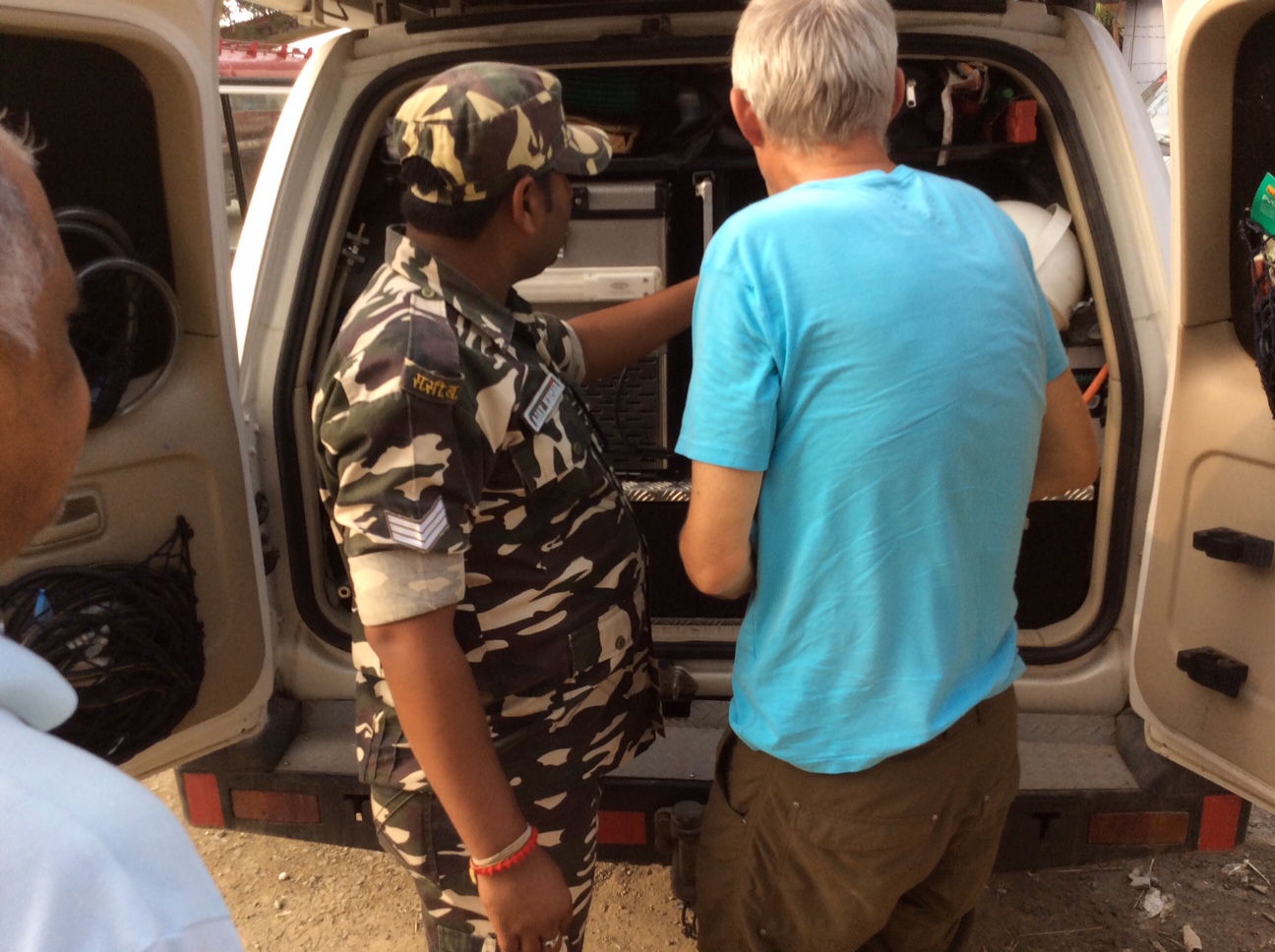 And now to deal with the Indian side.
Indian customs were pretty relaxed about inspecting our vehicle – a pleasant first. I didn't get any of my photos deleted on this occasion, they were quite relaxed about photographs being taken.
Area of Border crossing in Nepal: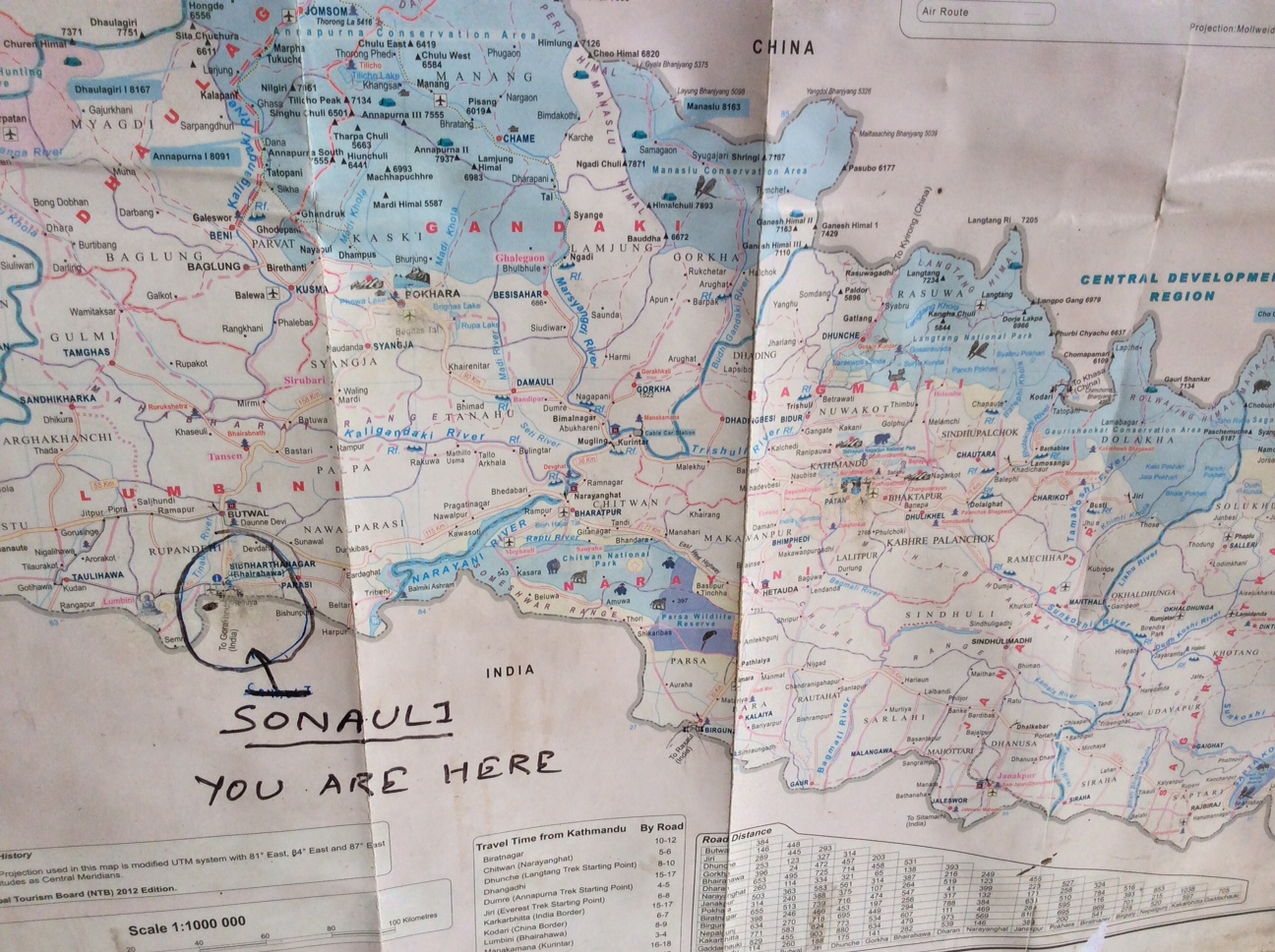 Saying our farewell to our fellow traveller, Peter – wishing him well with his onward journey. No doubt we will do a catch up as soon as we are all back home.
And Welcome to India and traffic!
It was now almost 6.30pm and we were on the Indian side near the border and we still had 100 miles still to go to get to the nearest, decent sized town. Unfamiliar roads, still had to get the direction sorted out, lightening had suddenly started- seemed after the euphoria of crossing into India a realisation that we still had a bit of work still to do.
The beautiful scenes of the mountains this morning were, for the present a distant memory.
The drive to Gorakhpur was challenging, in pitch dark, vehicles coming towards you with full beam on, we were now driving on the RHS of the road for the first time in a vehicle which had a LH steering wheel. So many vehicles coming towards us, with no lights or even reflectors who we had to suddenly avoid. We made it in one piece, determined we will make every effort not to drive in the dark in the few remaining days we now have left, before our journey comes to an end. We were also lucky it did not start to rain, the monsoon season is late by a week in these parts and any rain would have made driving very hazardous indeed.
Happy memories of Nepal.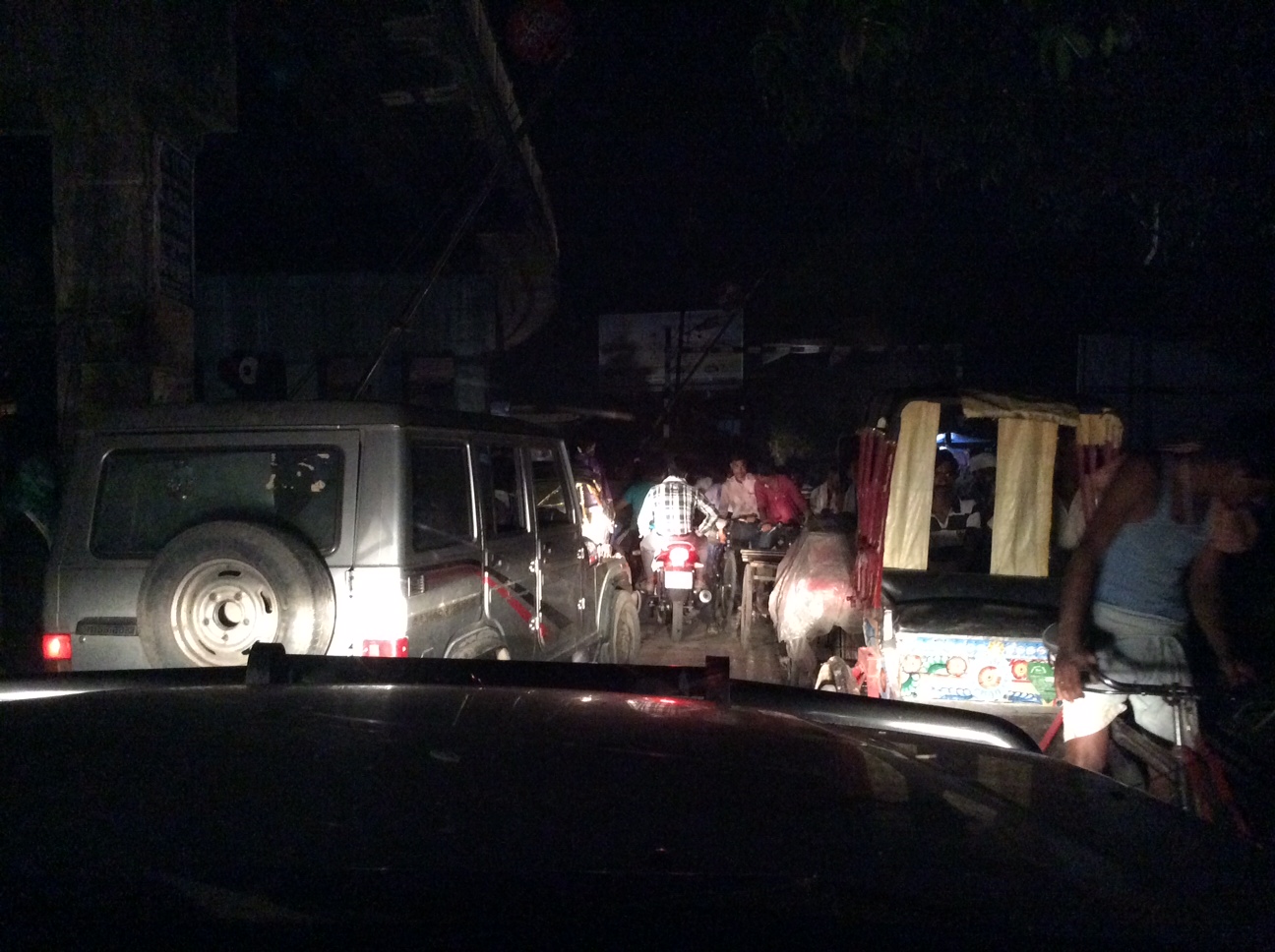 Just one scene of the types of challenges we faced driving in the dark towards Gorakhpur.
Journey today – From the mountains of Nepal – Kathmandu to border town Sonauli to Gorakhpur in India.